Newsletter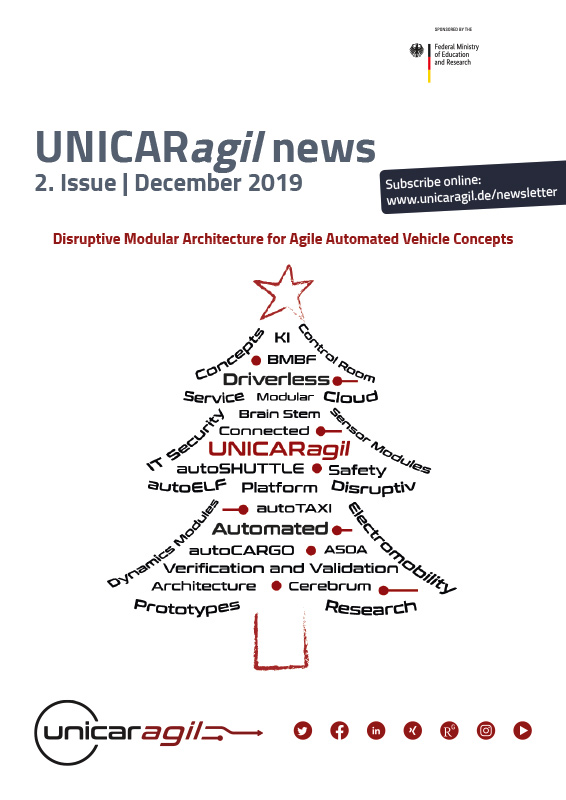 UNICARagil news
Das automatisierte Fahren wird in unterschiedlichsten Ausprägungen einen wesentlichen Baustein der Mobilität der Zukunft darstellen. Deshalb ist dieses Thema von herausragendem Interesse sowohl für die Forschung, als auch für die Industrie und unsere Gesellschaft. Im Rahmen des zweiten Newsletters, welcher im Dezember 2019 erschienen ist, freuen wir uns, Ihnen das Design der vier Fahrzeuge im Projekt UNICARagil.
News
Newsletter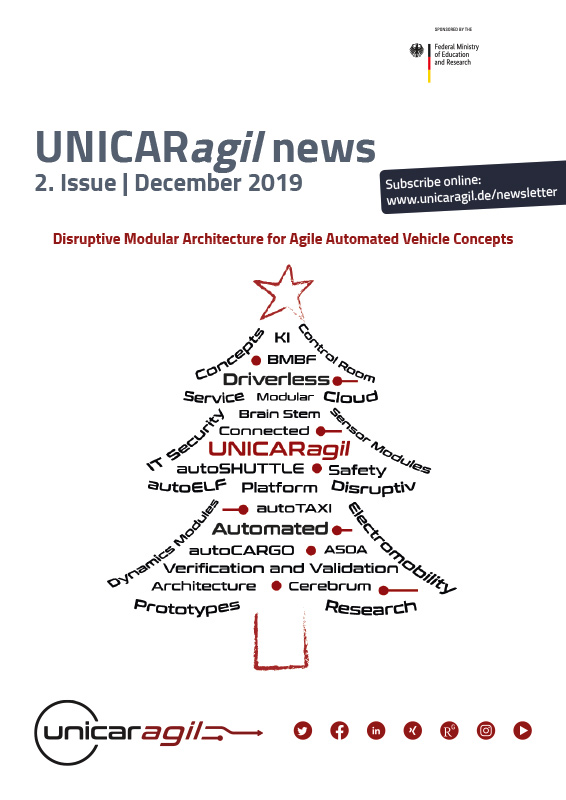 UNICARagil news
Automated driving will be an essential component of the future mobility in many ways. Therefore, this topic is of utmost interest for research as well as for the industry and our society. As part of the second newsletter, which was published in December 2019, we are glad to present the UNICARagil vehicle designs.
News
The 2. Newsletter December 2019 is online
The second issue of our newsletter was published in December 2019 after an eventful, exciting and intensive year 2019.
December Workshop in Stuttgart – Kick off for the platform integration
The last days more than 50 researchers met each other in Stuttgart to plan the integration of the first platform.
The platform is taking shape!
After one year of concept phase in the UNICARagil project, the platform is now successfully taking shape. You have surely followed the implementation on our social media channels. Read more about the past weeks of implementation.
Save the date
Next year the halftime event of our project UNICARagil will take place. Make a note of the date from Monday, 23rd to Tuesday, 24th March 2020 at the Technical University of Munich and look forward to exciting lectures and first hardware presentations.