Around 400 guests joined us and experienced the mobility of the future, when the UNICARagil consortium showed what it has achieved together after a project period of just over five years. Funded by the German Federal Ministry of Education and Research (BMBF) to the tune of €32 million, the 15 university chairs and institutes involved, together with 8 specialists from industry, have developed disruptive architectures for driverless vehicles. These highly modular architectures - from vehicle geometry to E/E architecture and software - create flexibility in the use of automated vehicles. Both software components, such as AI-based environment perception, and hardware components, such as ECUs, sensor and dynamics modules, can be easily exchanged, updated and reused. The consortium demonstrates this flexibility with four driverless vehicle prototypes for different applications: The autoCARGO for fully automated parcel delivery, the autoTAXI as an individual motto taxi, the autoSHUTTLE as a supplement to public transport and the autoELF as a private family vehicle. All vehicles were on display at the final event, giving visitors a first-hand experience of fully automated driverless driving in mixed urban traffic.
Highlights
Our final event combined presentations and an exhibition of project results with an interactive live demonstration of the prototypes that have been built up in UNICARagil. To mention only a few highlights:
User-centered driverless vehicle prototypes in four exemplary applications: The autoSHUTTLE as part of future public transport, the robo-taxi autoTAXI, a privately-owned autoELF and the autoCARGO for delivery on the last mile.
All vehicles using the same modular E/E basis and service-oriented software platform.
Robust automation with safe fallback levels enables self-driving and interaction with other traffic participants in an urban environment - no safety driver required!
A control center accompanying the driverless vehicles and assisting in difficult situations.
Collective perception and learning through Cloud services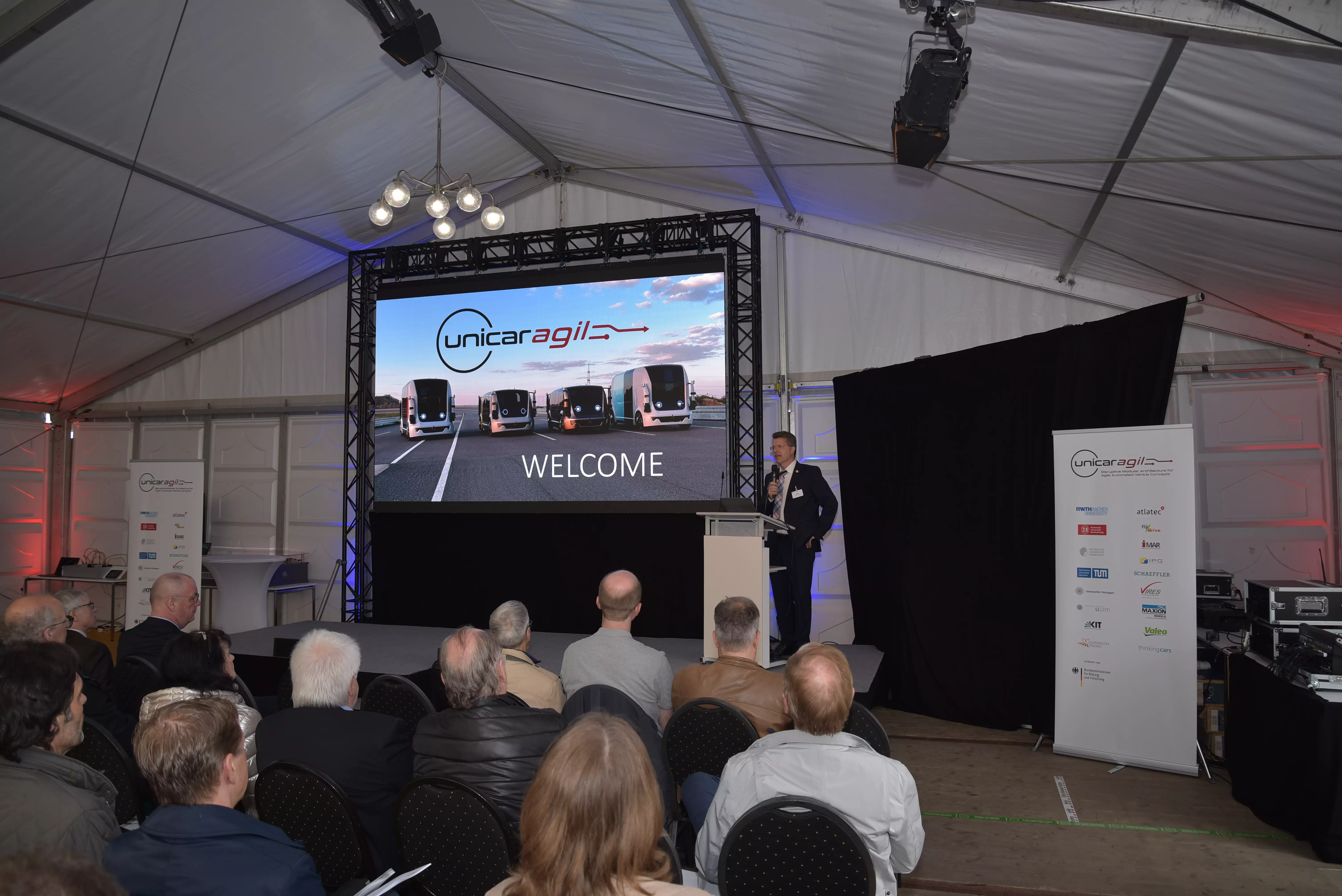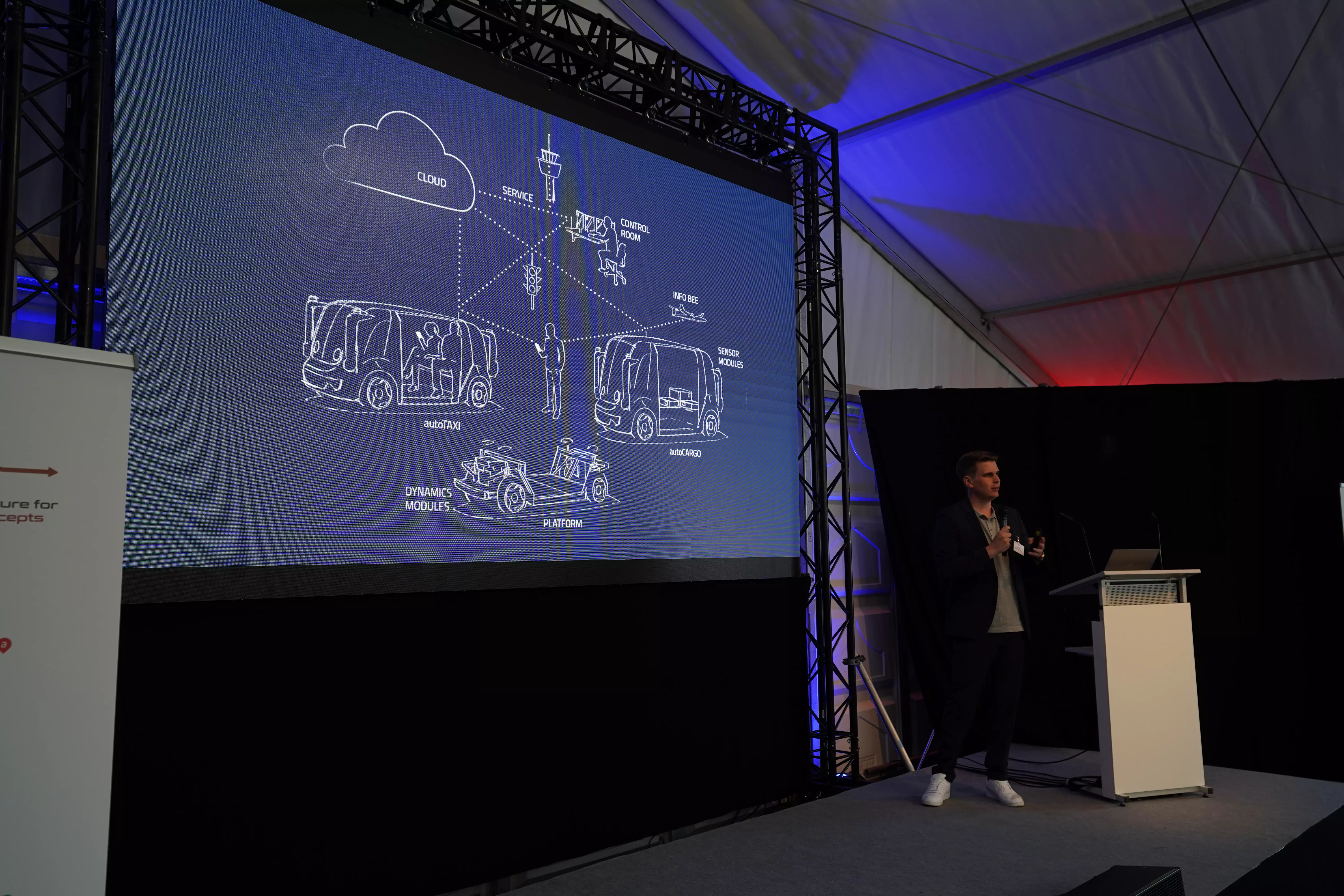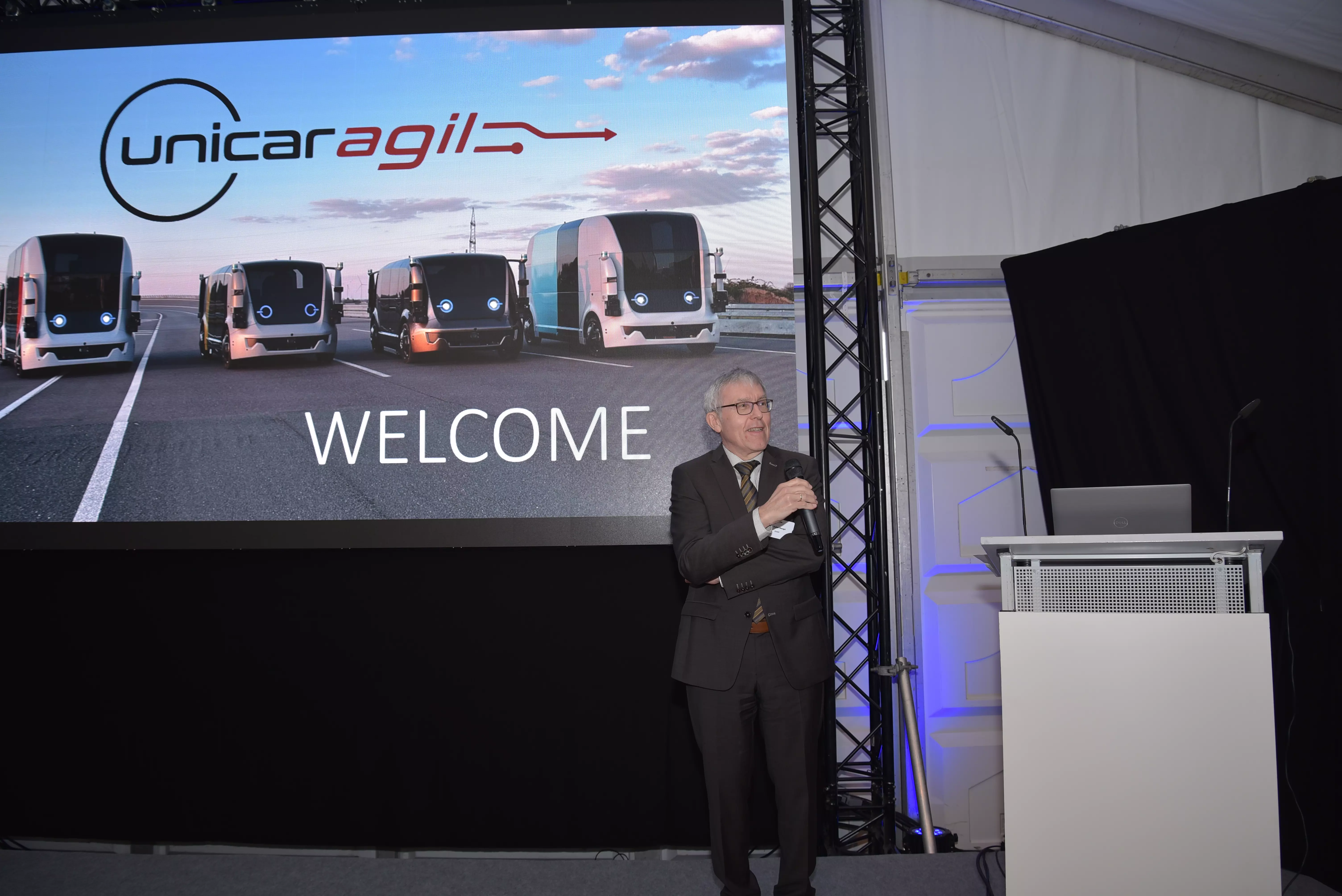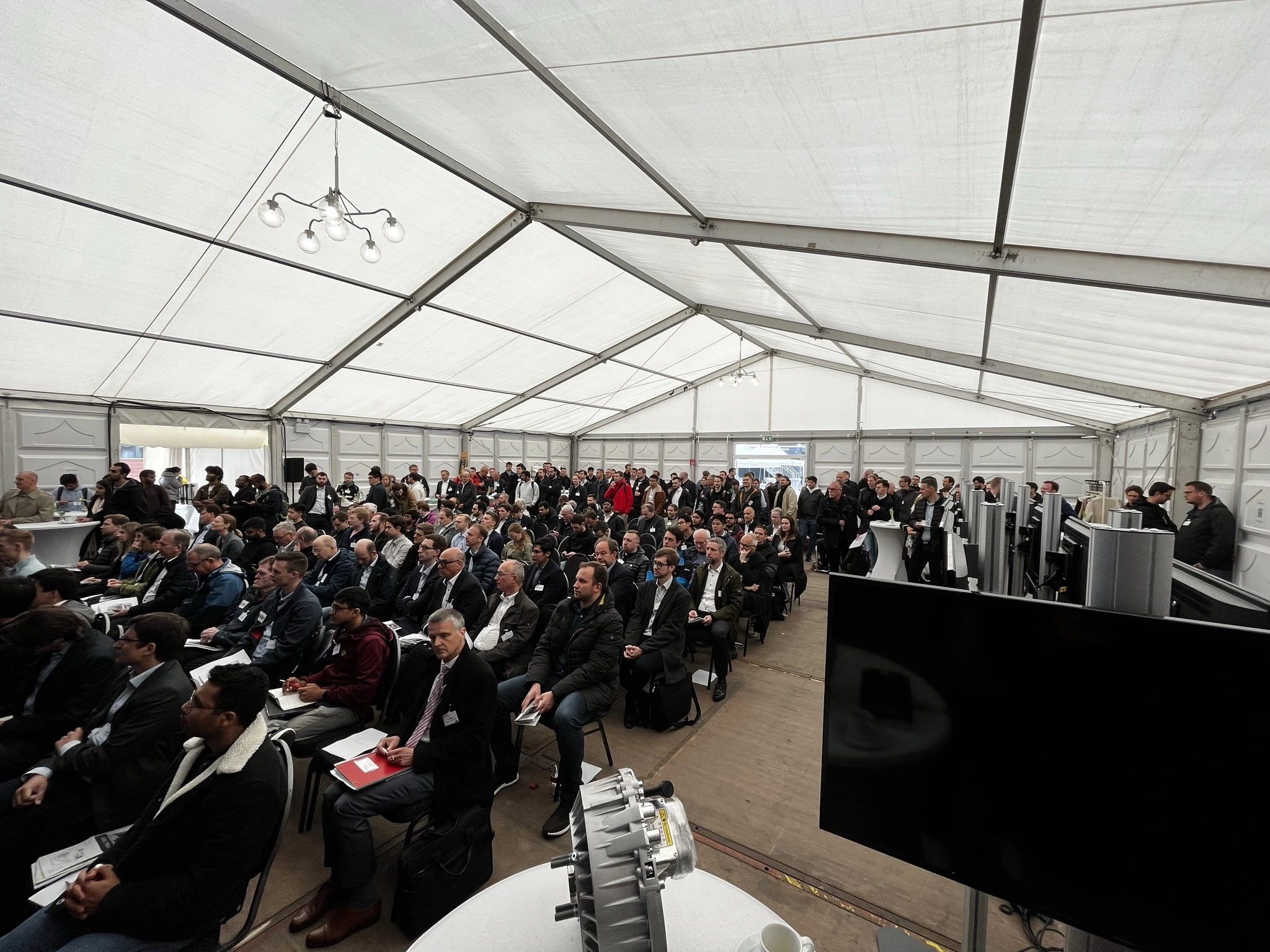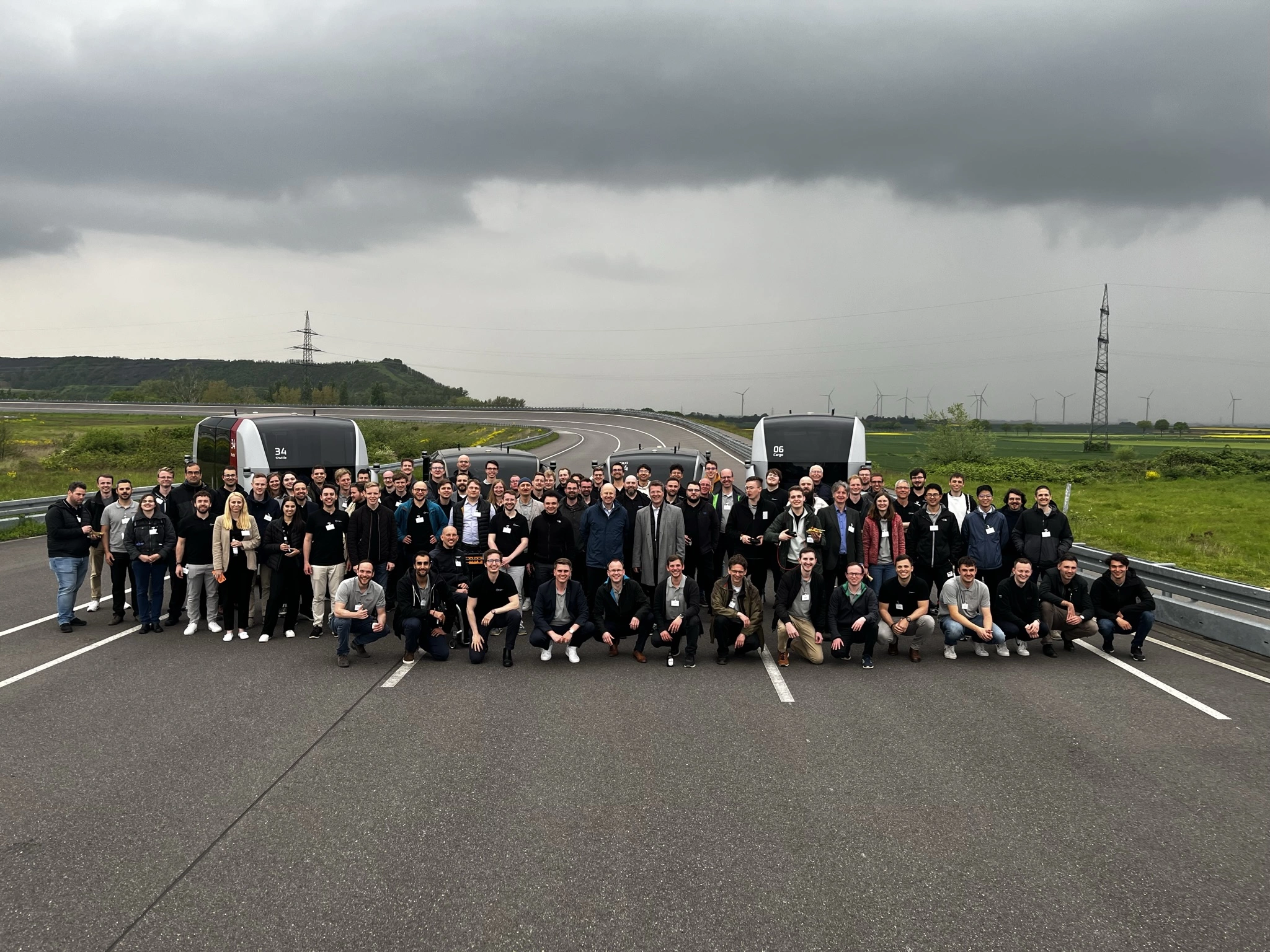 Watch the news article by BRF:
Agenda
There was also a full programme of talks and an exhibition of posters and demonstrators to illustrate the science behind the research.
Presentations and Speeches
Exhibition
Live Demonstration
from 08:00
Registration
09:00 – 10:00
Opening

Welcoming address by the BMBF
Introduction by Overall Coordinator Prof. Dr. Lutz Eckstein & Project Manager Timo Woopen

10:00 – 10:30
Coffee & Opening Live Demonstrations
10:30 – 12:00
Introduction of the Domains
Demonstrations of our vehicles autoCARGO, autoELF, autoSHUTTLE und autoTAXI
12:00 – 13:30
Lunch & Exhibition Opening
13:30 – 15:00

Poster Session 1

15:00 – 17:00

Poster Session 2


Software
Automation
Safety & Security

17:00 – 18:30
Closing & Outlook