The Project
Overview
Concept
History
Uni-DAS e.V.
Results
Germany's leading universities in field of automated driving have joined forces with selected specialists from industry in the BMBF funded UNICARagil project to rethink automated vehicles and their architecture. Based on the latest research on connected and automated driving, disruptive modular architectures in hardware and software for automated vehicle concepts are developed.
A scalable and modular vehicle concept consisting of the driving platform and add-on modules builds the basis for the fully automated and driverless vehicle concepts, which can be adapted to a wide range of applications in passenger transport or logistics flexibly. The main focus of the conducted research lies on the vehicles' functional architecture, which is connected to the cloud, the road infrastructure and with a sensor equipped unmanned aerial vehicle (UAV). The development of generic sensor modules for environment detection, flexibly expandable and updatable software and hardware architectures, and innovative dynamics modules that allow completely new forms of movement in road traffic mark additional focus areas of the project.
Dynamic Modules
Actuators with their own Control Unit

48V-System

Steering Angle until 90°
Platform
Modular Structure

Scalable
Add-On Modules
Four Vehicle Specifications

Different Interior Designs

User-oriented Development
Sensor Modules
Disruptive, Modular Design

Redundant Design

Provision of Environmental Information
Control Room
Teleoperation

Route Planning and Fleet Monitoring

Service Center
Cloud
Collective Environment Model

Collective Traffic Model

Provision of Additional Information
Service Orientation
Automotive Service Orientation (ASOA)

Identical Architecture over Vehicle Concepts

Simple Extensibility

Upgrade and Update Feature
Safety and Security
Security as an Integral Component of Development

Creation of a Public Standard for Automated Vehicles

Safe Halt Possible at Any Time
Info-Bee
Vertical Take-off and Landing Capability

Dynamic Addition to the Environment Model

Early Detection of Obstacles
From 1978 to 1982, the then Federal Ministry for Research and Technology (BMFT) supported the project "uni car - Demonstration of automotive research results in integrated overall concepts of passenger car test models". Within this framework, a consortium of German universities developed and tested four ready-to-run prototypes of a future passenger car. New concepts with regard to energy and resource conservation, safety, environmental compatibility and economy were of particular interest.
Many of the innovations presented at the IAA to conclude the project can be found in production vehicles now.
The organisation Uni-DAS e. V. is made up of independent, interdisciplinary experts whose members conduct research at German universities. In addition to Prof. Markus Maurer, Prof. Lutz Eckstein and Prof. Hermann Winner, Prof. Christoph Stiller, Prof. Klaus Dietmayer and Prof. Klaus Bengler are also members of the research association. The research is carried out on topics of driver assistance and automated driving. The association has the primary, overall goal of promoting science and research in corresponding subject areas. On the website of the organisation Uni-DAS e. V. you will find more information.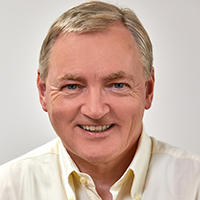 Prof. Winner
TU Darmstadt, FZD
"For the members of Uni-DAS e.V. the project UNICARagil fulfils the wish formulated almost 10 years ago by the founding phase, namely the collaboration on a project that goes far beyond the possibilities of individual institutes. It offers us the opportunity to bring in the different strengths of the Uni-DAS institutes and, in addition, connects us closely with other partners to form a close community."
Without the funding of the Federal Ministry of Education and Research, UNICARagil would not exist. Thomas Rachel emphasises the importance of research in his (german only) video message.
Member of the German Bundestag
former Parliamentary State Secretary at the BMBF
Thomas Rachel